No result found for your search.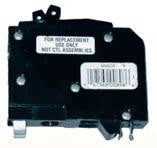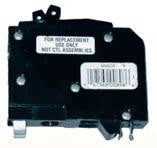 Square D
Square D - Molded Case Circuit Breakers
Product SKU:
square-d-qo2020
Available:
Only -28 item in stock
-28 item in stock
In stock
Out of stock
Back in stock
Square D - Molded Case Circuit Breakers
To receive a quote for square-d-qo2020, please complete the form below. You can also talk to our expert sales team right now by calling 800-211-4962
Thank you for contacting us. Your inquiry for square-d-qo2020 was received and we will be in touch shortly. You can also call 800-211-4962 to speak to someone on our expert sales team.
Description
Shipping & Returns
Reviews
Catalog Number: QO2020
Manufacturer: Square D
Connection: Plug-in
Frame Type: QO
Amperage: 20
Poles: TWIN
Voltage: 120
Square D QO2020 Specifications:
This plug in circuit Breaker is made by Square D. It's considered a twin circuit breaker and allows users to fit two circuits into one panel space. Each circuit is rated at 120 volts. This breaker has two metal clips on the bottom.
Square D QO2020 Details:
Commodity Description: Circuit Breakers - Commercial Circuit Breakers
Mounting: PLUG ON
Current Rating: 20 AMPERE
Wire Size: 14 TO 8 AWG (ALUMINUM/COPPER), (2) 14 TO 10 AWG (COPPER)
Interrupting Rating: 10000 AMPERE
Lugkit: breaker includes lug screws
Mounting Hardware: plug in breaker no mounting hardware required
In addition to a detailed inspection, every Circuit Breaker Wholesale product comes with a comprehensive warranty covering defects for 1 year. Reconditioned products come with a comprehensive warranty covering defects for 3 years. Circuit Breaker Wholesale will repair, replace or service all covered components, that are found to be defective in factory-supplied products during the applicable warranty periods. All warranty items must be returned to Circuit Breaker Wholesale for a full inspection and must be returned within the warranty period. Contact us at support@circuitbreakerwholesale.com or call us at (800) 800-800 for help with your warranty claim.